Lab Members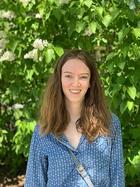 Hope Anderson hope.d.anderson@gmail.com Hope is an undergraduate at Wellesley College, class of 2020. She is majoring in physics with a minor in computer science. In the Emonet lab, she is computionally modeling how flies navigate odor environments. She is generally interested in biological applications of physics and mathematics. Her hobbies include reading, knitting, and cooking. 
Carrie Nardella  carrie.nardella@yale.edu Carrie Nardella is the Administrative Assistant to the Emonet Lab.  Carrie worked in the Medical School from 1990 to 2000.  She returned to Yale in 2016 in the Department of Molecular, Cellular and Developmental Biology. In her free time she enjoys living on the shore and raising her 3 daughters.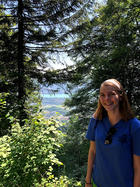 Charlotte Brannon  charlotte.brannon@yale.edu Charlotte is a Yale undergrad, Class of 2019. She is double majoring in English Literature and Molecular, Cellular, and Developmental Biology. She joined the Emonet lab in 2016, and has focused on experimentally producing and characterizing chemotactic bacterial waves in soft-agar environments. She plans to pursue a PhD or MD/PhD in the future. During her time at Yale she has been involved in the Yale Undergraduate Ballet Company, and likes trying different restaurants around New Haven.
Ewa Chodakowski  ewa.chodakowski@yale.edu Ewa is our lab technician. She has been at Yale since 2000. Ewa enjoys movies and spending time around New Haven.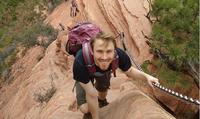 Henry Mattingly, PhD  henry.mattingly@yale.edu Henry is a postdoc, having done his PhD with Stas Shvartsman at Princeton modeling dynamic cellular processes, such as ERK signaling and the cell cycle. He also collaborated with Ben Machta, studying how to choose appropriately simple mathematical models. He enjoys hiking, exercise, board games, and cooking.
Keita Kamino, PhD  keita.kamino@yale.edu Keita is a postdoc, having completed his graduate work in the University of Tokyo under Satoshi Sawai, where he studied cell-to-cell signaling and chemotaxis of the social amoeba. Then he did a postdoc in AMOLF in the Netherlands under Thomas Shimizu, where he developed an experimental system to measure single-cell signaling dynamics of bacteria. He is currently focusing on the relation between spontaneity and responsiveness in bacterial chemotaxis. He has recently taken up swimming in his free time.
Mahmut Demir, PhD  mahmut.demir@yale.edu Mahmut is a postdoc who did his graduate work with Hanna Salman at Pitt where he studied migration of E. coli in shallow thermal gradients. He currently studies adaptation of olfactory receptor neurons and navigation in intermittent odorant landscapes. He enjoys outdoor activities, hiking and discovering new places. He also likes to cook occasionally.

Nirag Kadakia, PhD  nirag.kadakia@yale.edu Nirag is postdoc and Swartz Fellow of Theoretical Neuroscience. Nirag completed his graduate work in the UC San Diego physics department in July 2017 under Henry Abarbanel, where he developed methods of statistical inference in nonlinear dynamical systems. He is broadly interested in computational ​and theoretical neuroscience, currently focusing on odor coding, quantifying olfactory-driven navigational strategies, behavioral classification, and inference in sensory systems. In his free time he enjoys relaxing with his family, NBA basketball, reading, guitar, and lounging at wineries and breweries.

Thierry Emonet, PhD
PI
Alumni
Postdocs
Adam Waite, Research Specialist at Calico Labs
Amitaba Nandi, Assistant Professor at IIT, Bombay, India
Carlotta Martelli, Postdoc at Georg-August-Universität Göttingen, Germany
Dervis Can Vural, Assistant Professor at Notre Dame University, IN
Garrit Jentsch, Senior Scientist at BAST Inc.
Oleksii Sliusarenko, Quant researcher at a quantitative hedge fund
Roger Alexander, Senior Research Scientist, Pacific Northwest Diabetes Research, Seattle
Xiongfei Fu, Assistant Professor, Shenzhen Institute of Advanced Technology, The Chinese Academy of Sciences, Shenzhen, China
Yann Dufour, Assistant Professor at Michigan State University, Lansing, MI
Setsu Kato, Assistant Professor at Hiroshima University, Japan
Graduate Students
Junjiajia Long, Quantitative trader, Tower Research Capital, NYC.
Michael Sneddon, Software Developer 4, Lawrence Berkeley National Lab.
Nicholas Frankel, Postdoc with Wendell Lim at UCSF, San Francisco, CA
Srinivas Gorur-Shandilya, Postdoc with Eve Marder, Brandeis University
William Pontius, Software Engineer, Mighty.com, New York City
Postgraduate Students
Luca Rappez, Graduate student at EMBL Heidelberg, Germany
Noah Olsman, Graduate student at Caltech, Pasadena CA
Pedro Cisneros, Graduate student at UCSB, Santa Barbara CA
Sébastien Gillet, Graduate student at University of Namur, Belgium
Luis Hernandez-Nuñes, Graduate student at Harvard, Cambridge MA
Undergraduate Students
Adam Fine, now graduate student at University of Chicago physics
Megan Ayers, undergraduate at Lewis and Clark College
Mattia Mah'moud, undergraduate at Harvard University
Abhishek Sethi
Adam Bildersee, software engineer at Google[x]
Faez Syed
Jennifer Wang
Michael Weiner, Graduate student Cornell University
Tobias Holden
Collaborators